THIRD EYE PRESENT AVOTRE
Gorilla, Manchester.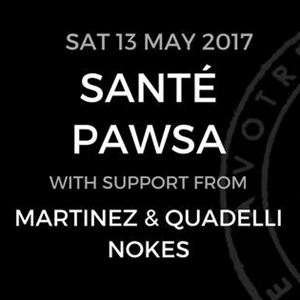 DOORS 11PM - 4AM.
LAST ENTRY MIDNIGHT.
This event is for over 18s only - No refunds will be issued for under 18s.
More information about THIRD EYE PRESENT AVOTRE tickets
We are proud to takeover Gorilla in May for this very very special night both these artists have been in our eyesight for quite some time now and to have them on the same bill is unreal!

SANTE

Berlin's Santé emerged as part of a wave of new producers with a different cut to their electronic jib around the time that deep house was losing its way somewhat. His productions ooze character, charisma, soul, colour, humour and above all a sense of humanity.

After teaching himself to play the guitar in his early teens, Santé bought himself an Akai MPC-2000 when he was 16 and set the ball rolling for a life entrenched in electronic music. "I was totally into sampling and house" he recalls of those early days of button bashing and experimentation. He left his hometown when he was 21 to immerse himself in the dance music mecca that is Berlin. The plan was to study music at university, but failing the entrance exam meant he had to pursue other endeavours. A studio internship blossomed into a full-time career, with the emerging talent spending six years producing jingles and ad music and nurturing his passion for house music at any opportunity. Nothing was released, however, until one of his demos found its way to Matt 'Radio Slave' Edwards. His first ever release came out on Edwards' acclaimed REKIDS imprint, setting the bar incredibly high and garnering him a lot of high-profile attention in the process.

PAWSA

PAWSA is a name that has consistently emerged from the burgeoning house and techno scene in recent times. The London-based producer kickstarted his remarkable rise with a bonafide EP on the renowned Lost Records in 2014. The appropriately named 'Pilot', put a marker down both on Beatport and in the dance community which has provided the basis for further success more recently.

Picking up steam, PAWSA received the firm backing of industry stalwarts Green Velvet and Nicole Moudaber who both locked down EP's from the innovative producer on Relief Records and Mood Records
respectively. Further to that, he can also call upon the likes of Adam Beyer and Pan-Pot as staunch supporters. These early successes further cementing the feeling that PAWSA is a producer destined to make a lasting impact.

In 2015, PAWSA co-founded Solid Grooves Records alongside Michael Bibi and with the underlying motif of "let the music do the talking", the label provided a firm base for PAWSA's latest EP 'Stage Two'. The sister company to the much vaunted Solid Grooves club night with regular happenings in London, Ibiza and Berlin, the label has been an important string to the bow of PAWSA.

PAWSA's signature sound - inventive tech house with an old school vibe - is decisively made for the dance-floor. As a DJ he lays down carefully curated and atmospheric sets. The producer identifies with also being a DJ in the most natural, traditional sense: he makes music which he can play out and share with a crowd. PAWSA regularly performs at esteemed clubs around Europe and held a much talked about residency in Vista, Privilege Ibiza throughout 2016.

Alongside all of this, PAWSA also turns his own magical and much loved 'PAWSA's Mixtape Series' and some top weekly tips for producers and DJs alike via his 'Groover Essentials' series. PAWSA is one DJ who is letting quality records do all the talking and at the outset of 2015, few are coming close to his consistency and indisputable calibre of his productions. With plenty more planned for 2017 and beyond, PAWSA and his team have a lot in store to extend their impact on the musical landscape.